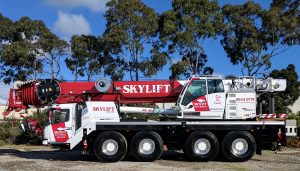 Updated 27 August 2018
Skylift Cranes is one of Melbourne's leading mobile Crane Hire firms.
You will see our cranes at numerous sites throughout Melbourne as we lift a huge variety of objects skyward and then back down again!
With over 20 years experience and a continually growing fleet, we specialise in finding the right crane for the right job at the right price.
Our friendly team of experts will ensure that whatever size the job, you'll be in safe hands.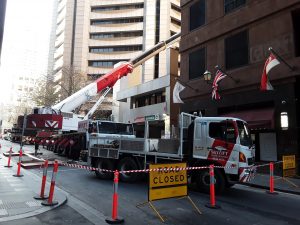 Crane Fleet For All Purposes – Cranes for Hire Melbourne
220T Tadano
130t Grove
100t Grove – Brand New August 2017
80T Demag
55T Kato
50T Kato
35T Demag
30T Tadano
20T Franna
15T Franna
10T Kato bubble
4T Maeda Crawler crane
3T Maeda Crawler crane
2.5T Maeda Crawler crane.
Crane & Operator
All cranes come equipped with a highly experienced, trained and professional driver/operator included in the rate.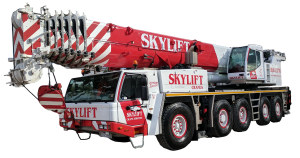 220T Crane All Painted Up
Unsure Of What Crane IS Best Suited For Your Project?
Our highly experienced team will ensure you get superb value for money when hiring mobile cranes in Melbourne, so if you're unsure as to the crane that is required for your particular project, please call us directly on (03) 9544 0774 and speak to one of the experts.
Regards,
David Bresnehan.